Wanna go fishing?

Let Levi take you and fun is coming your way!

Explore the best fishing grounds, enjoy a nice day on the boat, catch Snappers, Barracudas, Groopers, Kingfish...

Do you like snorkeling, too? There is always time for a little stop at the reef to see Belize's underwater world!

On the way to the sea you are looking at about a 4-miles-boat ride down the beautiful Sittee River. You'll see Levi's eyes focused on the banks all the time to show you crocodiles, turtles, iguanas and more.



or try a ride in the dark


Take a night ride on the river, spot out crocodiles and enjoy underwater-fireworks of bioluminescence in the lagoon!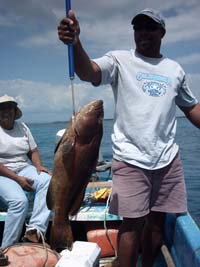 For further information and booking please contact
Levi Cuthkelvin
Levi@hopkins.bz

Tel. (+501) 664 8548